Hello everyone! Dreamingflower here! Not sure if any people read this, but I thought, I I'll write a blog her once in a while. Since this is Hararaku Maou-Sama! Wiki it's going to be only HataMaou related. Like thoughts, opinions, reviews on the novels, ideas and such. Maybe even on some fanfiction ideas that I have. I probably won't update frequently, since I tend to be lazy and forgetful. But I'll do my best!
My following posts will probably be about the novel translations by Yen Press and the spoilers of the Japanese Raws. A gift from heaven of course and I'd like to share my thoughts about it. Story wise, character wise, translatio wise enjoyment and of course fangirl and such about every cool, adorable development. So look forward to my next posts!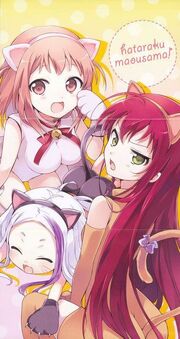 Ad blocker interference detected!
Wikia is a free-to-use site that makes money from advertising. We have a modified experience for viewers using ad blockers

Wikia is not accessible if you've made further modifications. Remove the custom ad blocker rule(s) and the page will load as expected.